Paperless Dentistry Book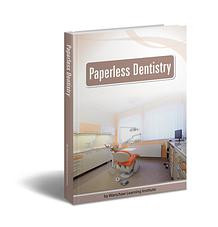 Have you thought about converting your traditional dental office to run completely paperless? Are you like several dental professionals, frightened of the uncertainty that electronic records bring?
Converting your office from a traditional to a paperless office doesn't mean you won't ever use paper again.  You may still find yourself from time to time printing things like dental claims or patient statements.  What it does mean is running your office more efficiently.  That's not to say the old way didn't work…it did, because people have been using the old way for years and got along just fine. Now, we have the capabilities of streamlining several of those traditional methods, making them faster, easier, more accurate, and more efficient than ever before.  Going paperless doesn't mean turning back the old way of doing things;  it just means using less of what you don't need anymore.
This easy to read manual discusses the simple steps and systems needed to convert from traditional office methods to electronic records, imaging and communications in the 21st century. You will understand the phases needed to convert your office, tips, advice and sources are provided to help you accommodate the transition to a Paperless Dental Office.
Table of Contents
Dental Equipment

Dental Practice Management Software

Selecting a PMS

Dental Billing

Operatory Set Up

Bridging Software

Image Management Software

Intraoral Images

Digital Radiography

Signature Pad

Scanner

Internet & Network

Website

Kiosk and Tablets

The Process – Converting Your Office

Automated Answering