Dental Human Resource Handbook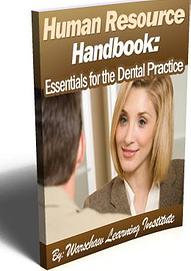 An easy to read guide for Dentists and office management relating to their duties and responsibilities toward State and Federal labor laws. The most common laws and regulations are reviewed, as well as tips to help enforce these with your new or current office team.
Goals:
To establish appropriate office management techniques in accordance with labor laws. Included are guidelines on interviewing, hiring and training techniques, maintaining proper documentation in personnel files, what type of training should be provided to employees, conducting performance reviews, disciplinary actions and employee termination. Common labor laws will be summarized and tips given on the best way to implement and follow these in your office. By protecting your office from easily made labor law violations it can protect your assets for the life of your practice.
Objectives:
To help protect dentists and dental offices from common and easily made mistakes regarding personnel and employment issues. By helping to avoid common mistakes associated with labor laws, it can help the office protect its assets and reduce the chance of legal ramification from a disgruntled employee.
Like every Dentist knows, there are many rules and regulations which the practice must follow that are in accordance with health and safety standards. Unfortunately, Human Resources and labor laws can be a foreign language which dental professionals aren't quite as familiar with.
This handbook will help to provide essential knowledge and skills to the office manager or acting supervisor of private dental practices. At small practices this is most likely the Dentist. As a practice flourishes and grows, staff and patient load are added, other individuals may take the role of acting supervisor.
By having a Human Resources policy handbook, the practice policies can remain consistent no matter who the acting manager is. Employees will always be treated fairly and held to the same standard and documentation will remain consistent.
Table of Contents Include:
Hiring
​Personnel Files
Orientation & Training
Performance Reviews
Discipline
Termination
Laws to Know