Excelling as a Highly Effective Healthcare Team Member Manual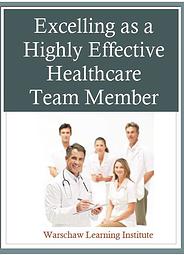 Warschaw Learning Institute is pleased to share this manual with you.  This e-book will be provided to each individual registering for one of our online courses.  If you prefer to purchase it on its own you may do so as well.
We will discuss aspects that medical and dental staff of all roles can implement in order to become an indispensable team member to their practices.  Whether you are a practice manager, supervisor, provider or technician, each employee has the potential to impact his or her entire office on a large scale.  As you learn how to make yourself indispensable in your office, you will grow your personal skills in a manner that empowers you to take on roles and challenges of all sorts, making you a key team member in your place of employment.  Be prepared to take personal responsibility of your work role, performance and results, as well as the influence you have on others around you.  Being able to work well under pressure and adapt to change are key ingredients in an employee others will want to work with and look up to.
"Great book every dental office should have one!" ~ Patricia A. (2013 Graduate)
Objectives
After completing the study of this manual, you should be able to:
Control your responsibilities and results

Initialize performance that is above and beyond your job role

Increase your personal influence in your surroundings

Perform well under added pressure

Adapt to changing work situations

Become an employee that other people want to work with

Influence others to improve their performance

Identify factors that affect your motivation

Apply key skills that model community, influence and openness

Match your leadership style to meet perferences of other in the practice

Find inhibitors that foster group commitment

Encourage others in your group to take initiative

Establish an environment of ownership and accountability

Determine strategies that will help you deal with negative outside pressures
"I'm just getting into the manual and the first section looks excellent. It is easy to ready, esthetically pleasing and provides simple, thought-provoking material." ~ Sherry R. (2014 Graduate)